Duties
Llanystumdwy Community Council

The full Council assembles on the first Thursday of every month at 7 o'clock at Ystafell Myrddin, Chwilog Memorial Hall.
Funded by the Precept rate which is paid as part of the rates bill from Gwynedd Council.
Organizing the cleaning and maintaining of the 9 bus shelters in the community.
Maintaining the main paths in the community. Part of this is repaid by Gwynedd Council.
Maintaining the Play Field at Llangybi.
Paying grants annually to
village halls/centres/cemetries/organisations such as youth clubs, usually in February. Applications must be supported by a financial balance-sheet. Applications to the Clerk by January 20th.
Maintaining Council land such as the grave of David Lloyd George in Llanystumdwy and the Village Green/Common Land at Rhydybenllig.
Sending comments on planning applications in the community to the County Council.
Sending complaints about the condition of roads, bridges, street lights, rubbish, rights of way and so on to the relevant departments of the County Council.
Responding to ratepayers' complaints about different public bodies.
Represented on the governing bodies of Llangybi, Chwilog and Llanystumdwy schools.
Represented on the governing body of the Charles Jones Alms-houses at Llangybi.

In this section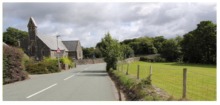 >> The Council
>> Information and Notices
>> Duties
>> Committee Work Schedule
>> Minutes
>> Policies and Standing Orders