Historical Interest
Llanystumdwy Community Council
1. Penarth Fawr Medieval Hall near Chwilog. Ordinance Survey Map Ref. 254. SH4137.
A medieval hall from the 15th century with a wooden roof and a coupled ceiling... more details
2. An Iron Age Fort (Megalithic) on the summit of Garn Bentyrch near the village of Llangybi O A Map Ref. 254SH4241.
3. The Lôn Goed Path. O A Map Ref. 254SH Start 4347 Finish 4543.
A lane with trees planted both sides constructed at the start of the 18th century to transport sand and lime and to connect the farms of a nearby estate. A pathway from Afonwen to the Bryncir area.
4. Ffynnon Cybi near the village of Llangybi. O A Map Ref. SH4241.
A holy well named after Saint Cybi, located at the foot of Garn Bentyrch... more details
5. Cromlechs (megalithic monuments) in the Rhoslan area.
Beudy Gromlech O A Map Ref. SH4840.
Ystum Cegid O A Map Ref. 254. SH4941.
6. Capel y Beirdd, Ynys. O A Map Ref. 254. SH4741.
The chapel is associated with two famous poets from the area namely Robert ap Gwilym Ddu, Betws Fawr (SH4639) and Dewi Wyn o Eifion, Gaerwen (SH4642).
7. Llanystumdwy Village. O A Map Ref. 254.SH4738.
The David Lloyd George Museum and his boyhood home at Highgate.
Lloyd George's grave above the river Dwyfor.
Moreia Chapel – designed by the famous architect, Sir Clough Williams Ellis who also designed the Museum gates.

In this section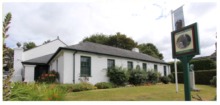 >> Our Community
>> Paths
>> Historical Interest